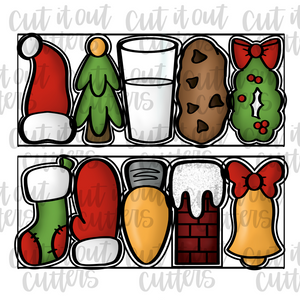 The Jolly Christmas Cookie Stick Cutter Set is the perfect addition to any cutter collection - especially those who love unique cookies!
You can get the whole set of 10, or mix and match as you please.
Please note: The 4.5" versions of the sticks will fit in the BRP Box, but only if arranged with skinner and fat sticks, not all fat sticks - and if your cookies have zero spread. If you are not sure on your cookie spread or want a little wiggle room, I suggest the 4" sticks. Below I have listed the measurements of the 4.5" stick to avoid any confusion!

*For the best fit, choose two "fat" and three "skinny" to go in the 12 x 5 BRP Box.
*For the 4", all 10 can fit in the BRP 12 x 9.5 Box!
Santa Hat: 4.5x2.25 (skinny)
Christmas Tree: 4.5x2.25 (skinny)
Milk: 4.5x2.5 (fat)
Cookie: 4.5x2.5 (fat)
Wreath: 4.5x2.5 (fat)
Stocking: 4.5x2.25 (skinny)
Mitten: 4.5x2.25 (skinny)
Bulb: 4.5x2.35 (skinny)
Chimney: 4.5x2.5 (fat)
Bell: 4.5x2.5 (fat)
Material: All of our cookie cutters are 3D printed with PLA Plastic.
Size: All sizes are measured by the longest edge of the cookie cutter.
Care: Hand wash ONLY in warm soapy water. Do not heat the plastic or it could warp or melt the cutter.
Feedback: Once you receive your order, if you have any questions/concerns please message us. We strive for all customers to be 100% satisfied with their item(s). All items in our shop are fully refundable if there is a problem (defect, etc.) with the product. Please contact us regarding any issues before leaving feedback.
Design: Every design is sketched and then illustrated by the Cut It Out Cutter team. Each cutter has a fine edge to get a sharp cut for the best cookies! We also build each cutter with three different sized layers so they are super durable and strong!