NYE Collection Released Today! (12/9)
The new items will be on sale until 10 am tomorrow morning CST (12/10)
Valentine's Day COLLECTION
CIO shop was closed Tuesday Oct 24th
We were out of office yesterday. Processing times will not count for yesterday but will start back today, Oct 25th. Thank you for your patience.
We love our cookiers!
Seriously love everything from Cut It Out!! Always the best quality, and I love the designs. She never disappoints! Oh, and awesome customer service.
As always, Cut It Out cutters are perfect. The sizing is accurate, the quality of the cutters is great, and the shapes are so cute! Even shipping all the way to Canada, I got them fairly quickly and definitely within the timeframe I expected (the shipping cost to Canada was also really reasonable!). Cut It Out is one of my favourite cutter shops for a reason!
Another large purchase of cutters with great service, fast shipping & beautiful cutters!
Never disappointed with a cutter from Cut It Out. High quality, fast shipping, overall ALWAYS happy with them!
Great quality cutters! My favorite place to order from!
Fast shipping, excellent cutter! Edges are thin and clean. Will definitely be back for more!
Our Cutters
Every cookie cutter at Cut It Out is uniquely hand designed and illustrated by our talented team. Our cutters are all 3D printed from the highest quality material with the sharpest edges, ensuring your Cut It Out cookie creations are perfect every time. We are in the process of increasing the depth of each cutter. All of our newer designs will be 3/4" tall while our older designs are 5/8" tall. The taller cutters take longer to print and use more filament so there is a .50 cent increase in price. We are working towards getting all cutters to the 3/4" design.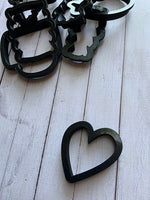 Replacement Policy
If you are ever missing an item from your order, or you have a damaged cutter we will of course replace that item for you. Please email us with your order number. However, with the delays from USPS, we cannot guarantee a delivery date on your order. Please give them ample time to get your order to you before contacting us. If your package is lost, we will help you open a claim with USPS but we cannot reprint and reship orders. We will do everything we can to help you find your original order.
Thanks for your understanding,
the CIO Team!