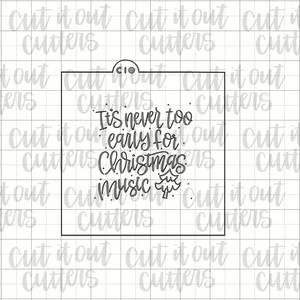 The It's Never Too Early for Christmas Music Cookie Stencil is the perfect addition to our Throw Pillow Cookie Cutter. This stencil only fits the standard 4" cookie cutter.
The link to the Throw Pillow cutter is here:
Material: This cookie stencil is 5.5" x 5.5" and it fits most popular cookie stencil holders. It is made out of .007mm food safe plastic.
Care: Hand wash ONLY in warm soapy water. Do not heat the plastic or it could warp or melt the stencil.
Design: Every cookie stencil is designed by the Cut It Out Cutter team.