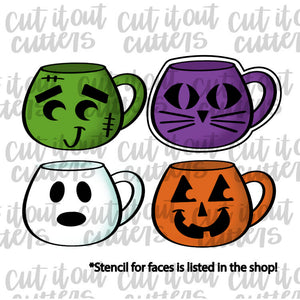 The Faces Coffee Mug cookie cutter is the perfect addition to any cutter collection - especially those who love unique cookies!
This Cookie cutter was designed to pair with the faces stencil. The Halloween Faces Stencil is now listed in the shop and the Christmas Faces Stencil is in the works and will be released soon!
Material: All of our cookie cutters are 3D printed with PLA Plastic.
Size: 3" x 3.75"
Care: Hand wash ONLY in warm soapy water. Do not heat the plastic or it could warp or melt the cutter.
Feedback: Once you receive your order, if you have any questions/concerns please message us. We strive for all customers to be 100% satisfied with their item(s). All items in our shop are fully refundable if there is a problem (defect, etc.) with the product. Please contact us regarding any issues before leaving feedback.
Design: Every design is sketched and then illustrated by the Cut It Out Cutter team. Each cutter has a fine edge to get a sharp cut for the best cookies! We also build each cutter with three different sized layers so they are super durable and strong!