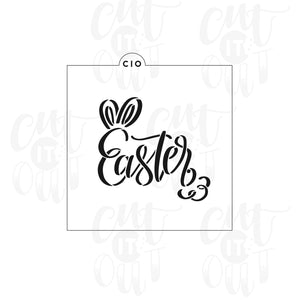 The Easter with Bunny Ears & Tail Cookie Stencil is the perfect addition to any stencil collection. This hand lettered stencils fits our 4" Easter with Bunny Ears & Tail Cutter.
Material: This cookie stencil is 5.5" x 5.5" and it fits most popular cookie stencil holders. It is made out of .007mm food safe plastic.
Care: Hand wash ONLY in warm soapy water. Do not heat the plastic or it could warp or melt the stencil.
Design: Every cookie stencil is designed by the Cut It Out Cutter team.