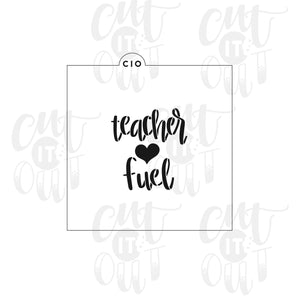 The Teacher Fuel Cookie Stencil is the perfect addition to our Original Coffee Mug Cookie Cutter. This fits our Standard 4" cookie cutter. Obviously this stencil can be used on a simple shape, but it was designed to be used on the 4" Original Coffee Mug Cutter.
Material: This cookie stencil is 5.5" x 5.5" and it fits most popular cookie stencil holders. It is made out of .007mm food safe plastic.
Care: Hand wash ONLY in warm soapy water. Do not heat the plastic or it could warp or melt the stencil.
Design: Every cookie stencil is designed by the Cut It Out Cutter team.